Claire & Gabrielle were the first two young entrepreneurs on the block to create organic raw cold-pressed juices in Paris. Their commitment to high standards, meticulous production processes and working with local bio-certified producers, make their juices incredibly desirable, highly sought-after and the hottest wellness brand in Paris.
From their detox juices and almond milks to their chic concept store and evening talks, we love everything they do. It's also their brand philosophies like "Beauty Begins Within", their dynamic community initiatives and before-the-trend approach that are the reasons why we love to work with Atelier Nubio.
The project for AtelierNubio: Claire initially approached us to create some images and typography to raise awareness of a holistic event she was hosting at their new concept store on Rue Paul Bert. We met with Claire at the Atelier for a juice and a golden latte to discuss their ideas.
The brief: A series of photographs to include portraits with Atelier Nubio products and a selection of still-life photographs of products from the concept store + Atelier Nubio Products. Key words: sensual, minimal, strong.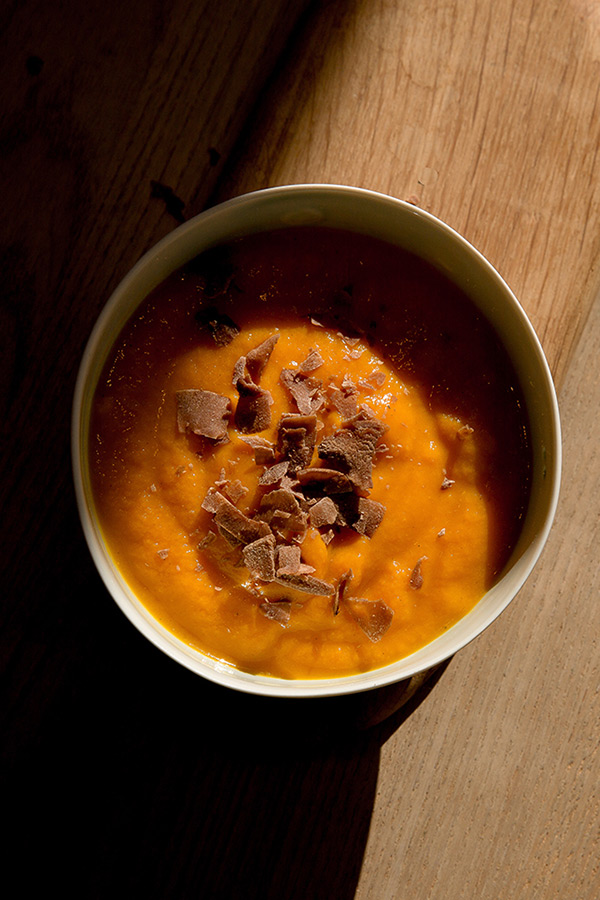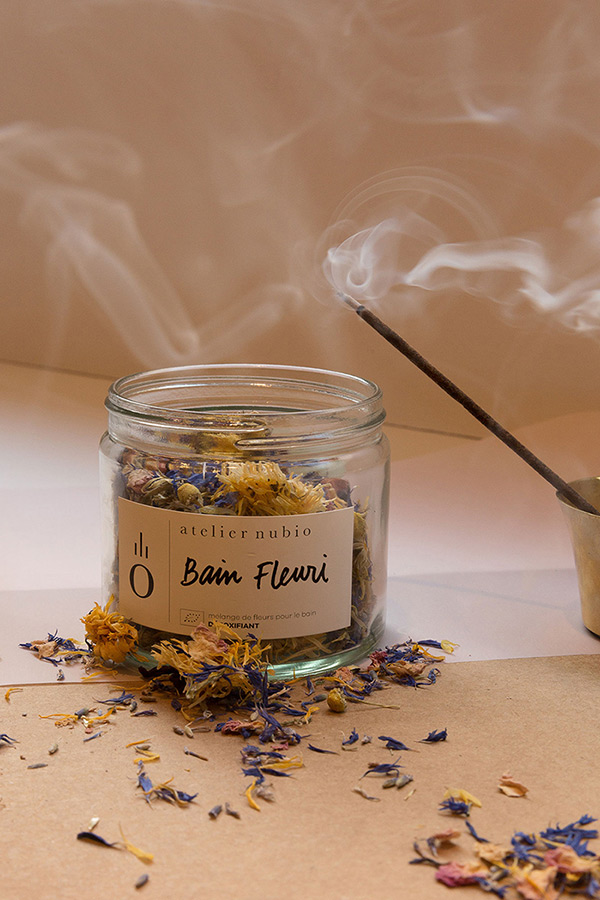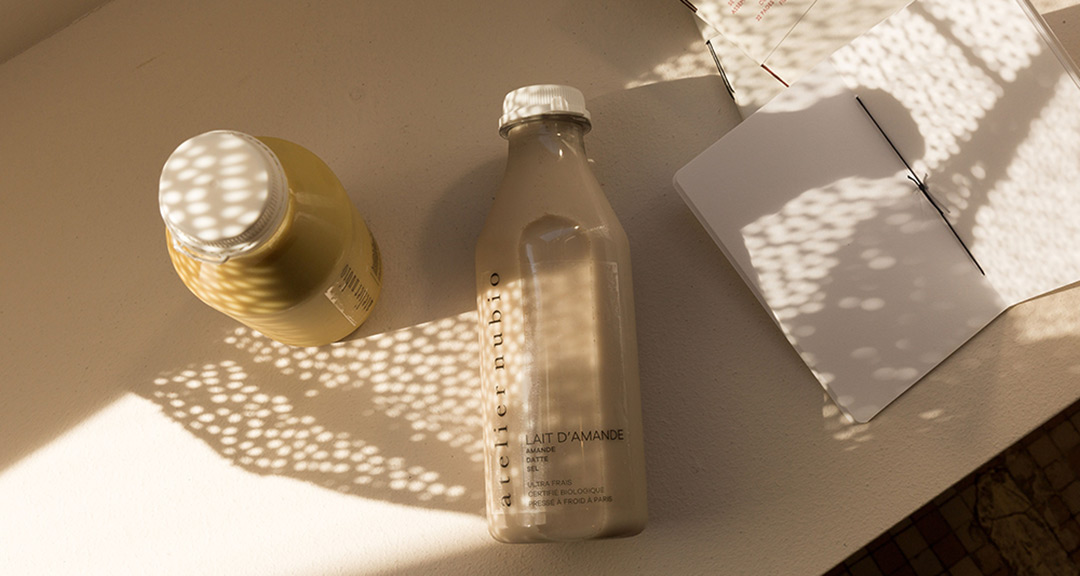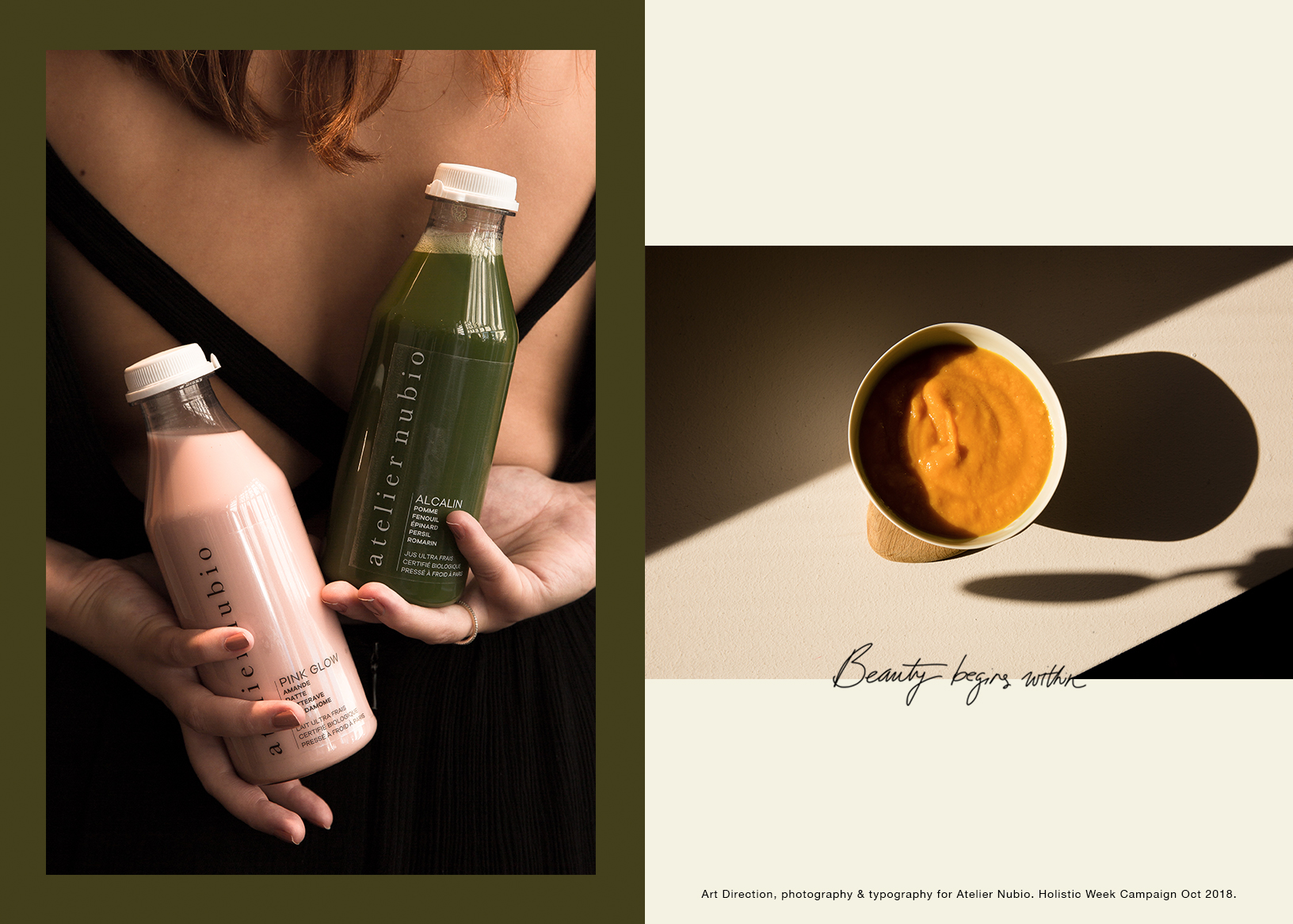 The moodboard: (see below) We spoke about the light and sensuality in the film Call Me By Your Name by Luca Guadagnino, which served as inspiration for the mood-board. Dappled light was key too. Claire mentioned her love of skin captured in the recent Atelier Nubio campaign images, so images playing with skin colours, shapes and textures were pinned to the board too.
The shoot: In pre-production, we researched, organised props and generated ideas for the shoot that we thought would bring the mood to life. We spent some time location-scouting and decided on the park close to the concept store to take advantage of the natural autumnal light and to play with the dappled light effect. We shot the portraits in the outdoor natural light and then moved back to the atelier where we continued the theme of dappled light to shoot the still-life photographs inside.
Warm tones, minimal and shadow-light play were also key words we kept in mind while setting up the scenography and photographing the still-lifes
End Product: (see images above) In post production we worked on editing and created a typography style to suit the mood of the pictures. We also came up with some brand slogans for the campaign – 'Beauty Begins Within', 'Coffee & Hot Topics' as some examples. The final images were used as content on the Atelier Nubio Website and across Social Media Channels and Newsletters.